Foster Farms
Logsdon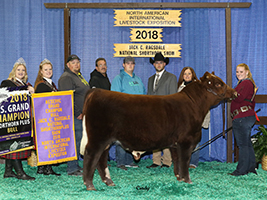 Foster Farms is owned and operated by Renae and Desirae Logsdon. A family owned farm that was established in 1978 by Bob and Myrtie Foster. The operation produces purebred Shorthorn, Shorthorn Plus, Hereford, Simmental, and Sim-Solution cattle, but is mainly Shorthorn, Shorthorn Plus, and Hereford cattle. We strive to produce functional cattle that can go from the showring to the pasture. Every heifer that Desirae has ever showed has went back into production and is still in production.
Desirae has been showing cattle since she could walk and has been an active junior since 2007. She has served as the Ohio Shorthorn Lassie Queen and is currently serving as the Ohio Junior Shorthorn President. Growing up in the industries of beef cattle, sheep, and hogs; Desirae knows functional, productive, and practical livestock, which is what she strives for in her operation. Still being a junior and attending many of the nationals shows, she knows what the industry is wanting in a show aspect and as production cattle. Many of our cattle have been successful at county, state, and national levels and have turned around and produced calves that have been successful.
The breeding program at Foster Farms is centered on making functional, competitive, preforming, and productive cattle. As you walk through the fields you see a vast difference in calves and cows to meet these qualities. At Foster Farms we try and make sure that there is something for everyone.