Twin Oak Farms, LLC
Workman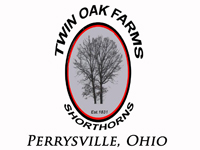 Jason, Fred, and Cammie Workman
915 St. Rte. 95, Perrysville, OH 44864
Phone: 419-651-2442
Web URL: Coming Soon!
Offering: Females,Bulls,Steers,Feeder-Calves,Retail-Beef



Twin Oak Farms, LLC has a long history of cattle husbandry and is operated by Jason Workman. With a goal of enhancing shorthorn genetics through selective breeding, Twin Oak Farms uses embryo transplants, artificial insemination, and maternal excellence.
Jason is the seventh generation to farm the land settled by the family in 1831. Located on state route 95 in southern Ashland County the farm is within eyesight of the beautiful hills of Mohican State Park and Forest. Twin Oak Farms, LLC was awarded the Ashland County Soil & Water 2016 outstanding cooperator of the year, which was the third time in the history of the farms to achieve the designation.