Cedar Lane Farm
Winkle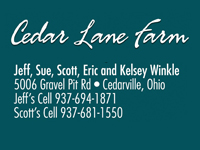 Cedar Lane Farm was established in 1985 when the Winkle family moved to Cedarville, Ohio from Marysville, Ohio when we decided to farm Susie's family farm after working for Issac's Land and Cattle. At first we just had some Angus cows but after Scott started to get closer to 4-H age the decision was to return to the Shorthorn breed that Jeff's family had been involved with since the 1920's. We ventured to the Ohio Beef Expo and bought Scott a bred cow from the McLaughlin (10 M's) family and a bull from Waukarau Farms and started a small herd. A few years later we purchased another bull at the Expo from Cates farm," CF Bravo" a son of Trump out CF 18th Fool. This bull ran the pasture of Cedar Lane for 8 years and gave Scott, Eric and Kelsey many fine 4-H projects for their 4-H careers.

D&D Cindy Beauty 53U ET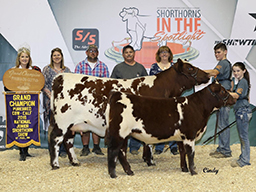 CLF Cindy Beauty 1404 ET with CLF Proud Fool 1207 ET with
FPK Cindy Beauty 161 BRH CLF Proud Fool 1506



In the last 10 years Cedar Lane has made a large investment to improve and expand our herd by purchasing embryos and flush's from a few select cows from various herds. We also become more involved in the National Show circuit. One of our first purchases was a heifer that Kelsey showed her last year of 4-H that was named Reserve Calf champion at Denver. This heifer went ahead to become the foundation of our Cindy Beauty line. We also purchased a flush out of GCC Fool Pride 10 that proved to be the beginning of our Proud Fool line. Both of these cow families have proven to be back to back Jr National Champion Cows.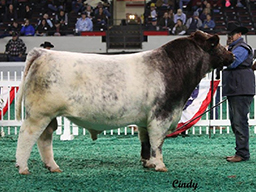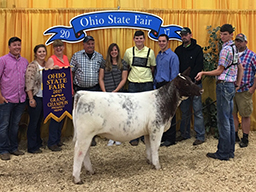 CLF Foolin' Around 1401 ET Foolin' Daughter


We really rang the bell with CLF Foolin' Around 1401 ET, a Sonny son out of a full sib to CF Bravo that we purchased as an embryo. This 3 time Undefeated Ohio and Kentucky State Fair Grand Champion Bull has really put us step ahead. As his first calves are now just weanlings and the second crop started calving he has proven to have ideal birth weights and exceptional look and athletic functional calves. He has already sired a class winner at Jr National's and a class winner at the 2016 NAILE. We eagerly wait for these females to mature to see what the future holds for them and their offspring. While we are still relatively small our quality of cattle is quite good as 80% of our cattle is either marketed as show stock or retained for replacement.