Schrock Solid Shorthorns
Schrock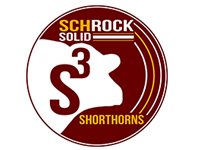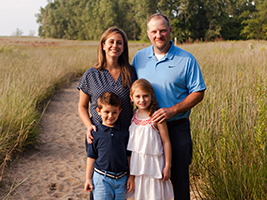 Schrock Solid Shorthorns is the home of Josh and Anna Schrock and their children, Eliza and Jesse. Located in the town of North Bloomfield in Trumbull County, Ohio, the farm is also home to the Schrock's small herd of purebred Shorthorn cattle.
Farming is in the Schrock blood. Josh's parents' house sits next to his and Anna's on the family farm, and his father, now retired, still assists with the operation of the property. Josh and Anna share a love of the rural lifestyle and a dedication to farming. Both spent their childhoods engaged in farm-related activities. Anna was active with her 4-H horse projects and Josh stayed busy with his cows and tractors.
Josh owned several breeds of cattle before selecting Shorthorns as his breed of choice. The Shorthorns' docile temperament, strong maternal instincts and interesting color patterns caught his attention. He purchased two shorthorn heifers in 1998 and has worked the last 19 years to arrive at his present herd.
Schrock Solid Shorthorns strives to raise cattle that are moderate, easy fleshing and functional without sacrificing eye appeal and substance. They are designed to thrive in a grass based system.
With each succeeding generation, Schrock Solid cattle are gaining in quality and consistency. The focus will remain on breeding a small number of top-quality animals each year. Every spring, the farm's new calves take Josh closer to his goal.