Foster Farms
Logsdon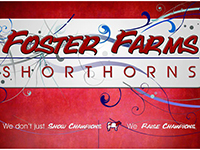 Foster Farms Shorthorns is a Purebred Shorthorn and Shorthorn Plus cattle operation that is located in Amanda, Ohio. The farm also consists of a couple of Herefords and Simmentals. A family owned farm, which was started in the 1990's by Bob and Myrtie Foster. Their goal was to produce functional cattle that could compete in both the show ring, but also go on and have the longevity to be productive cow.
Desirae has been showing cattle since she could walk and has been an active junior since 2007. She has served as the Ohio Shorthorn Lassie Queen and is currently serving on the Ohio Junior Shorthorn Board. Growing up in the industry of beef, cattle, sheep, and hogs; Desirae knows functional, productive, and practical livestock which she strives for in her herd. Still being a junior and attending many of the national show she also knows what the industry is going to in a show aspect and as a breeder.
The breeding program at Foster Farms is centered on making functional, competitive, preforming, and producing cattle. As you walk through the fields you see a vast difference in calves and cows to meet these qualities. Desirae tries to make sure there is a little something for everyone.